Story of the "Worlds Greatest Lover"
An ordinary man,
an extraordinary love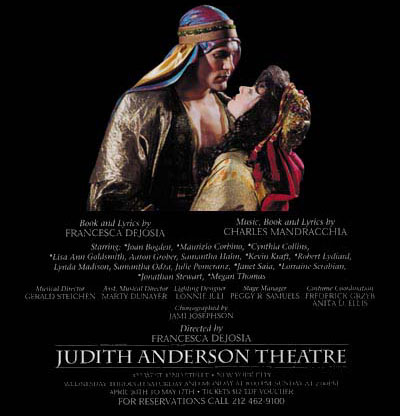 ---

Valentino The Musical recreates the spellbinding legend of silent film's romantic Icon, Rudolph Valentino. Set against the plush background of Hollywood's roaring twenties, his life was meaningful, dramatic, and inspirational !
A collaborative work of writers, Francesca Di Giosa and Charles Mandracchia.
| | | |
| --- | --- | --- |
| Francesca's experience as a twelve year veteran of Film and Network Television, (ABC, NBC and CBS) combined with her backgroung in staging and directorials Off Broadway the New York State Theater in Lincoln Center, has inspired her vision to create the Book and Lyrics for "Valentino, The Musical". | | A fifteen year veteran Charles has appeared on Broadway, and with The New York City Opera. His credits extend from television to film, as well as the creating and developing of a sitcom for Paramount Pictures. As a vocal consultant, Charles coaches celebrity musical talent for Atlantic and Warner Brothers Records. His unique combination of talents has culminated in the conception and the lush and enchanting score of "VALENTINO" The Musical, which opened Off Broadway on May 6, 1998 at The Judith Anderson Theater in New York City |
It is the wish of this creative team to bring Rudolph Valentino's true story to the Broadway Stage with the highest level of art, dignity and respect to which he himself embodied.
Cordially Yours Charles Mandracchia and Francesca Di Giosa
---
The Man Home The Music
Reviews Pictures

Hollywoodland Productions Inc. TM
COOPER STATION P.O. BOX 213
NEW YORK CITY, NY 10276 USA
Email: vmusical@earthlink.net
Phone: (212)-228-0962
All Rights Reserved.Copyright 1999
All text, images, media, music, lyrics and logos on this site are Copyright ©1993-2001 Hollywoodland Productions, Inc., and may not be used or copied. Valentino The Musical and picture design are a Registered Trademark. Its appearance on any other website or any other form of media is unauthorized and unlawful. Necessary action will be taken if used. Home page model: Charles Mandracchia. Art Direction by Francesca Di Giosa and Charles Mandracchia.