| | | |
| --- | --- | --- |
| | | |
Valentino The Musical
"Reviews"

"Valentino's score is as lush and romantic as old Hollywood!"
Pat O'Brien, Access Hollywood
"Bravissimo! Valentino sings his way into your heart"
Gail Sheehy, Vanity Fair
"Charles Mandracchia's music is not only heart felt but, gets to that place in the soul where all love begins and ends, it is as varied in style
and rich in melody as one could hope for!"
David Roberts, Theatre Reviews Limited
"A delightful piece, an interesting score - the songs are tuneful, with a nice originality!"
Cris Curcio, Sunday Showtunes
"Valentino sings, finally - and what a delight!"
Penny Proddow, Contributing Editor. In-Style Magazine
"A unique and affectionate musical."
Heather Phares. All Music Guide
"Mandracchia's Music is rich and melodic"
Victor Gluck, Backstage
"Viva Valentino - The greatest Italian Lover is back
with a musical that is - 100% Amore"
Domenico Vacca. Editor and Publisher. Italia Magazine
"The Broadway audiences are sure to appreciate
your presentation of this Hollywood icon"
Johnny Grant, Ceremonial Mayor, Hollywood
"Valentino - a success! This project will contribute
to the cultural diversity of our city"
Rudolph W. Giuliani. Mayor, New York City
"Valentino's Music is fantastic, so infectious and fun loving -
I could dance all night!"-Ivana Trump
"Valentino is a breath of fresh air"
Lonna K. Hooks, Secretary of State, New Jersey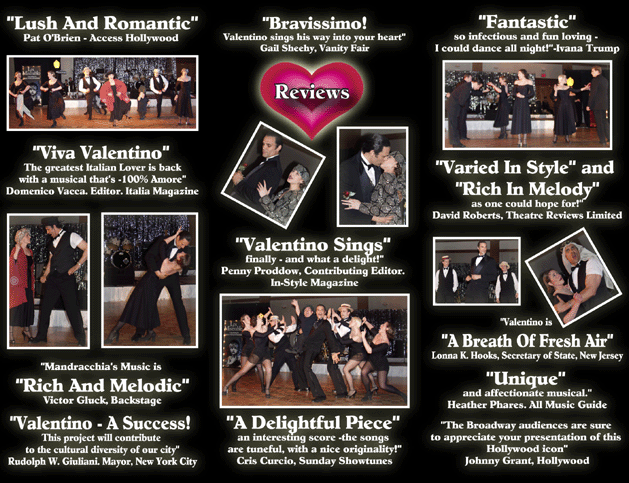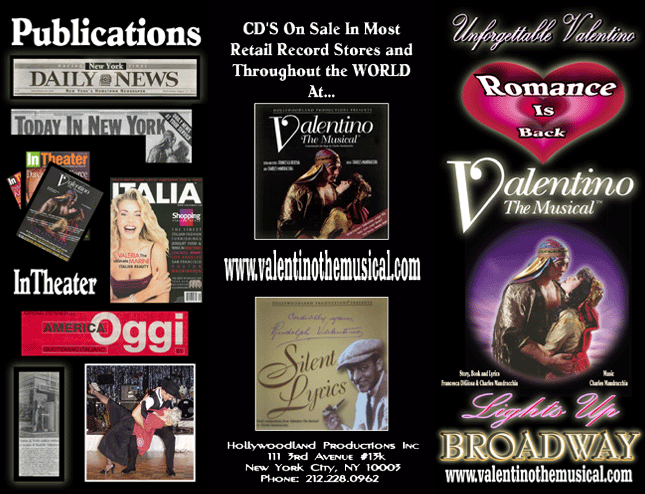 ---

All Music Guide Expert Review:
"Valentino The Musical"Reviewed by Heather Phares for All Music Guide
The original cast recording for Valentino: The Musical captures Rudolph Valentino's tumultuous, brief life in songs like "Castellaneta," "Mamma, I Miss You," and "New York Is All Around," which trace his departure from his hometown in Italy and his arrival in New York; and "Battle Song," "Valentino Soliloquy," and "Locked Forever Away," which relate his frustrations with being a matinee idol, his turbulent love life, and his early death. In between are clever numbers like "Hollywoodland," "Million Dollar Baby," and "Art Deco Women," each faithfully conveying the events in Valentino's life as well as the machinations of the film industry in its early years. Musically, Valentino: The Musical is also faithful to the era, mirroring the tangos, sweeping ballads, and bubbly jazz that provided the soundtrack to the teens and '20s; Charles Mandracchia's and Megan Thomas' performances add further depth to the album. The CD's extensive liner notes add the finishing touch to a worthwhile cast recording of a unique and affectionate musical.
---
Sunday Showtunes Review:
"Valentino The Musical"
Sunday Showtunes Reveiwed by Chris Curico
"Valentino The Musical" (Hollywoodland Productions, Inc.) played New York last year and is a delightful piece with an interesting score and a telling story about the screen legend. , the story starts in his homeland and reveals a strong bond between mother and son. He's off to New York where he has little success and finds much discrimination. Then it's on to Hollywood where his career takes off. The songs, by Charles Mandracchia with some lyrics by book writer Francesca Dejosia, are tuneful and there's a nice originality about them. The cast sounds good especially the composer as Valentino. The show's web site promises another New York production in the millennium. It's worth a look!
---

"ValentinoThe Musical"
Reviewed by David Roberts for Theatre Reviews Limited
On Monday, August 23, 1999, Rudolph Valentino's fans celebrated the seventy-third anniversary of the death of this great silent film star who, in the course of his short career, won the hearts of movie goers throughout the world. Valentino had an incredible talent, marvelous good looks, and a sense of self that was, at the same time, honest and self-effacing. He once wrote, "Women are not in love with me but the picture of me on the screen. I am merely the canvas on which they paint their dreams." Valentino knew who he was and knew why he was successful.
This canvas is carefully recreated in the CD of "Valentino The Musical" which faithfully traces Rudolph Valentino's life from the departure from his mother and home in Castellaneta, Taranto, Italy and his arrival in New York City in 1913 to his untimely death at the age of 31 in New York City.
In the CD's second track "Castellaneta," Valentino's (Charles Mandracchia) mother (Megan Thomas) bids a touching farewell to her son. This song is one of the CD's best tracks and the singing here is not only heartfelt but gets to that place in the soul where all love begins and ends, that place of unconditional and non-judgmental love which a parent has for her child. Ms. Thomas' voice is compelling and the lyrics and music allow her and Mr. Mandracchia to make a very good beginning to this well produced CD.
Throughout, Francesca Di Giosa's lyrics are faithful to the events in Valentino's life and successfully encapsulate the significant events in the life of this silent screen legend. Nothing is omitted here. We learn of Valentino's arrival in New York, his difficulty in finding the kind of work he had hoped to find, his experiences in Hollywood, his two marriages, the rumors and scandal that surrounded his life and career, and the friendship with June Mathis who "filled (Valentino's) heart and soul complete."
The CD's "book" provides all the information the listener needs to appreciate the eighteen cuts on this first class recording. The following are the highlights of the CD. In Valentino's song "Mamma, I Miss You," Rudolph shares that he is "homesick, worried, and fearful" and faces the odds of anti-immigrant hiring practices and the "cold grim lonely place" New York seems to be, the "abyss of (his) loneliness."
In "The Lover's Waltz," and "Hollywoodland," the listener learns of Valentino's "gigolo" days as a "paid" dancer and his arrival in Hollywood where he was soon discovered and began his short, but memorable career as silent film's elusive and sensuous lover. "The Difference In You" again showcases the voice of Megan Thomas sharing Valentino's Mamma's deep love for her son and her pride in his accomplishments in America.
Several tracks are dedicated to Valentino's tumultuous marriages to Jean Acker and Natacha Rambova and Kristin Reitter and Melodee Shea Curry fare well as the two problematic women in Valentino's life. In "Hollywood Marriage Sham," "Great Valentino," "Art Deco Women," and "Tender Sweet Romance" the lyricist and composer let out all the stops and tell the whole story of Jean Acker's rumor-mongering, the changes of bigamy, and the domineering nature of Valentino's second wife.
Charles Mandraccia's music is very easy on the ear and equally pleasing to the human spirit. Combined with his lyrics and those of Francesca Di Giosa, this music is as varied in style and rich in melody as one could hope. All the singers are first rate and the ensemble always provides a full and irrepressible backdrop to all the work of the musical's principals.
In 1923 poet Rudolph Valentino (he was a person of many talents) published "Day Dreams." One of the poems "Happiness" is an ode to Valentino's frustration and unfulfilled dreams. "Valentino The Musical" gets the listener to the CD in touch with the screen legend who met and overcame many of life's (and career's) frustrations and left his family and his countless fans wondering what those unfulfilled dreams were. "Valentino The Musical" helps us remember the actor the world loved and catch a fleeting glimpse of the enormous talent whose potential was never able to be realized.
This CD deserves substantial attention and serves as a fitting prelude to the anticipated reprise of this charming musical in Manhattan in the (hopefully) near future.
Italia magazine article about "Valentino The Musical"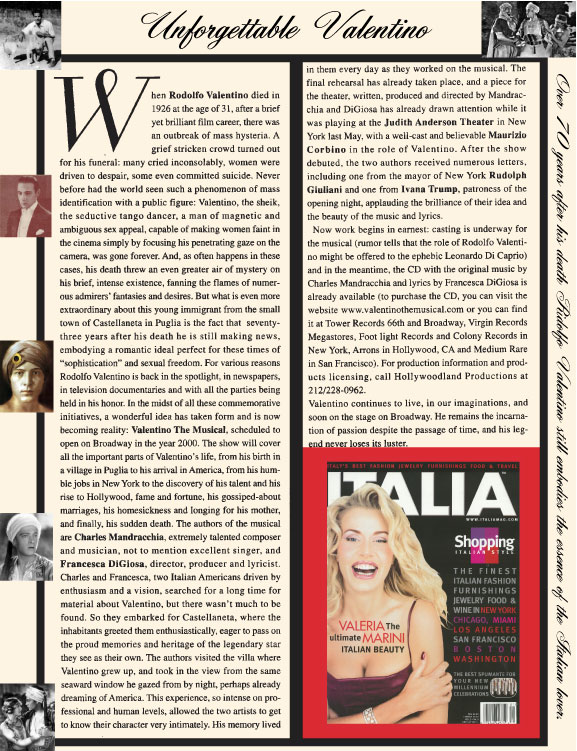 Hollywoodland Productions Inc. TM
COOPER STATION P.O. BOX 213
NEW YORK CITY, NY 10276 USA
Email: vmusical@earthlink.net
Phone: (212)-228-0962
All Rights Reserved.Copyright 2001
All text, images, media, music, lyrics and logos on this site are Copyright ©1993-2001 Hollywoodland Productions, Inc., and may not be used or copied. Valentino The Musical and picture design are a Registered Trademark. Its appearance on any other website or any other form of media is unauthorized and unlawful. Necessary action will be taken if used. Home page model: Charles Mandracchia. Art Direction by Francesca Di Giosa and Charles Mandracchia. All other logos on this page are only to show where review was seen. No copyright is claimed on non-original or licensed material. Disclaimer: images used only to identify where reviews are seen of Valentino The Musical.